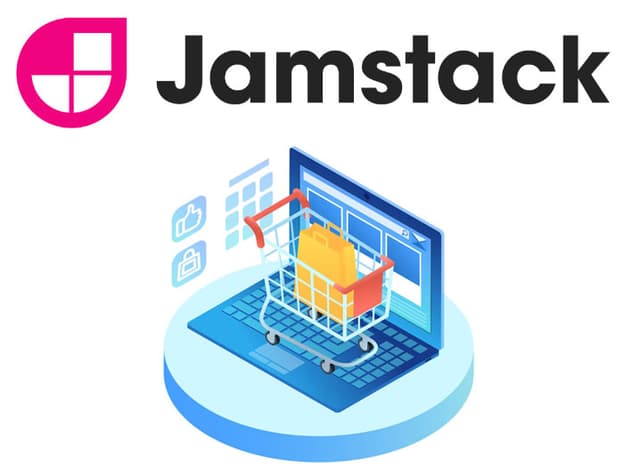 Jamstack and E-Commerce: Creating Scalable and Secure Online Stores
Unleash the power of Jamstack for e-commerce: build scalable, secure online stores with optimal performance. Transform your business with cutting-edge tech.
Jamstack and E-Commerce: Creating Scalable and Secure Online Stores
A well-liked web architecture called Jamstack seeks to increase the speed, security, and scalability of websites. But is it appropriate for building online stores? We will discuss Jamstack for e-commerce and its benefits, and key things to think about before utilizing the services of the Jamstack web agency.
Jamstack consists of more than JavaScript, APIs, and Markup
Jamstack has developed into a "headless" ecosystem of extremely quick, fully scalable, secure tools for creating web apps. To help full-stack teams work more quickly, Jamstack architecture encourages the use of technologies that divide frontend and backend operations. It encourages sending pre-rendered static HTML to browsers during construction time. Small teams and individuals may now create and deploy full-stack apps thanks to Jamstack without having to deal with the burden of conventional model-view-controller application design.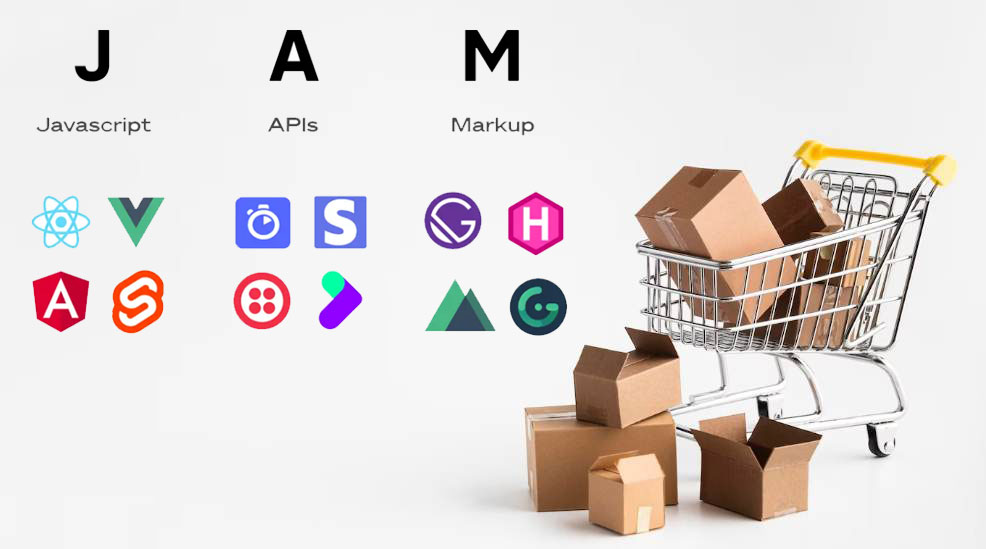 What Is Jamstack eCommerce?
By using Jamstack to build eCommerce websites, frequent issues with user experience, performance, and page load time are eliminated. Using Jamstack, you can create your online store, and then utilize APIs to connect to an online store platform to handle backend operations like processing orders and maintaining inventory. As the front-end layer and the back-end infrastructure are distinct in headless commerce, Jamstack and headless commerce complement one another effectively.
Given that Jamstack specializes in creating complex online applications with cutting-edge functionality and interactivity, it is possible to classify it as a web application development service. But, Jamstack can also be used for website building, and as part of that service, it can build quick, effective websites that are simple to scale and secure. In the end, the particular requirements and objectives of the project will determine whether Jamstack is utilized for web application development or website creation. Hire Jamstack developers who can drastically increase the speed, security, scalability, and efficiency of the websites and applications you want to create for your business.
Benefits of Jamstack eCommerce
Performance-Enhancing and Faster Sites
A website's speed is crucial, and Jamstack websites are renowned for their quick loading times. This is due to the setup's ease of use, which uses CDNs to host static files. This is especially crucial for e-commerce websites because even a one-second delay can result in an 11% decline in page views and a 16% drop in consumer satisfaction.
The World is your Oyster When it Comes to Selling your Products
The frontend and backend layers of your e-commerce website can be separated when you create them on Jamstack. This makes it simple for you to display your products on several websites, like Facebook and Amazon. Without having to manually update several platforms, you can manage all of your digital sales channels in real time from a single spot.
Possibilities for UX are endless
With the help of Jamstack, you can provide your customers with a specialized storefront and offer them individualized shopping experiences that will set you apart from the competition. By utilizing Shopify, BigCommerce, or other e-commerce platforms, you can create a custom storefront or PWA. Also, you can give each consumer group a special experience if you cater to different customer groups. The implementation of this feature on other well-known e-commerce platforms is difficult.
Increased Speed of Market Entry
Jamstack accelerates the time to market and enhances the developer experience by streamlining the development process. You may personalize your online store to offer distinctive customer experiences, add more ways for customers to discover your products, and develop user interfaces according to your tastes. With Jamstack, all of this is accomplished without compromising on quality or creativity.
Experience with full-stack development is not required
On Jamstack, developers may design the frontend layer without worrying about the backend layer, from deploying the layout to connecting it with the backend layer, without hindering their productivity. Developers can rely on backends provided by e-commerce systems like Shopify thanks to Jamstack's framework's support for APIs. They can then focus on creating the frontend layer without having to worry about the backend.
Compared to traditional routes, the costs are lower
Websites built with Jamstack are more static than dynamic websites and use less storage space. They are consequently less expensive to host. In addition, it is less expensive to construct a website than it is to start from scratch, and it is also a lot easier to maintain.
Security has been enhanced
Because they lack a conventional database, Jamstack sites are less prone to security breaches. This reduces the possibility of server or database vulnerabilities, providing your online store with greater security. Cyberattacks can be avoided if you construct e-commerce with Jamstack.
Is Using Jamstack Worth it?
Your e-commerce company's demands and competitors will determine whether it should move to the Jamstack, as they do with so many other business-related decisions. Jamstack might be a good bet if you need an e-commerce site that is quicker, more secure, tightly linked with a mobile app, and has distinctive workflows.
Do you want secure, fast website or application?
Get an estomate: