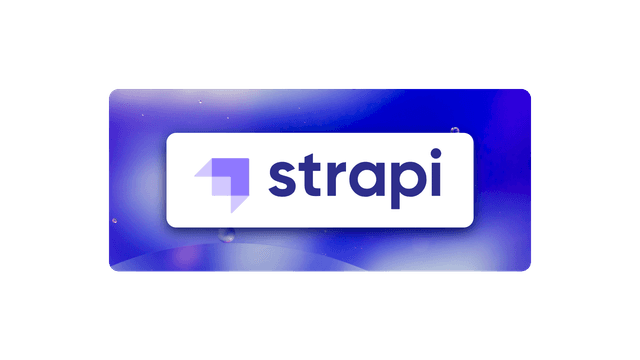 Why Strapi, a headless CMS, is a popular choice for businesses?
Let's define what a headless content management system is first. A backend (body) and head (head) development make up CMS. As a result, headless CMS has strong backend development, a database for content storage, and an API for content distribution. CMS enables publishing and managing information across many platforms without the need for a frontend framework.
No-head CMS Products from Strapi are revolutionizing the e-commerce sector. In order to provide its users with an omnichannel experience, Stripy enables the development of applications with seamless interfaces, a dependable database, and content distribution powered by APIs. Stripy offers the headless project special characteristics seen on conventional digital platforms, such as content relationships, authentication procedures, and content search, among others. Strapi CMS, a React.JS application, offers a workaround for businesses forced to use systems with limited customisation options. You can have custom development services for Strapi and flexibility and freedom with the specially designed Strapi CMS without knowing any code.
Why is Strapi important for projects involving e-commerce?
With Strapi development
, you can power up an eCommerce business, as it features:
Distributing content structures across multiple channels;
Scalability and growth are enabled by the modular architecture;
Web app administrators can deliver content more quickly with an easy-to-use interface;
Projects that can be customized easily;
A large user and developer community;
Self-hosting;
Project reusability.
The best solution for e-commerce enterprises is Strapi, which supports the creation of branded adaptable content, management of numerous digital channels and connected devices, and workflow optimization. Let's now examine the Strapi platform in greater detail.
Benefits of Utilizing Strapi for Business
Integrating seamlessly
Strapi offers adaptive features that enable collaborations with a third party, enhancing the user experience. It doesn't matter if you want to use a third-party database, work with React, Python, or Angular, or select multiple backend and front-end frameworks.
Content management across multiple channels
Strapi is a fully customizable experience for creating gorgeous content and sharing it across several platforms. You can write, update, manage, and publish material for blog entries, social network accounts, and homepage product descriptions by working on a single admin panel. Working with all material kinds, including text, articles, photographs, and videos, is possible with Strapi. Modern capabilities give administrators the ability to manage content relevance, ensuring that your website stays at the top of the search results to increase conversion rates and draw in new, repeat customers to your e-commerce firm.
Extra-secure approach
Data integrity is the first goal of any online company. Strapi is by far the better secure option in the comparison of Strapi VS Netlify CMS content management systems. Users may rest easy knowing that their web platforms are secure from malware and cybersecurity risks thanks to the built-in authentication mechanism. To manage accessibility, authorisation, and validation and lower the risk of security flaws, Strapi provides ready-to-use solutions.
Increased time to market
Consider how quickly a product that is ready for the market could be developed if backend development were skipped. Strapi offers a modern site interface that makes it easy to add new features or content.
FAQ
Strapi development - what does it mean?
Building applications, websites, or online shops for Strapi involves utilizing an open-source, headless CMS for omnichannel content management.
If I have a large project, can I use Strapi?
Due to its scalability and versatility, Strapi is a great choice for bigger projects with a lot of unique requirements and a lengthy development cycle.
Strapi allows self-hosting, right?
Yes! Although Strapi is self-hosted, developers have the choice of where to host and deploy their projects.
Strapi vs. WordPress: Which is better?
Traditional content management systems (CMS) like WordPress typically operate slowly and need time-consuming, complex custom customization to become responsive and more effective. Strapi, a headless CMS, helps developers get great outcomes much faster by overcoming those difficulties.
Do you want secure, fast website or application?
Get an estomate: